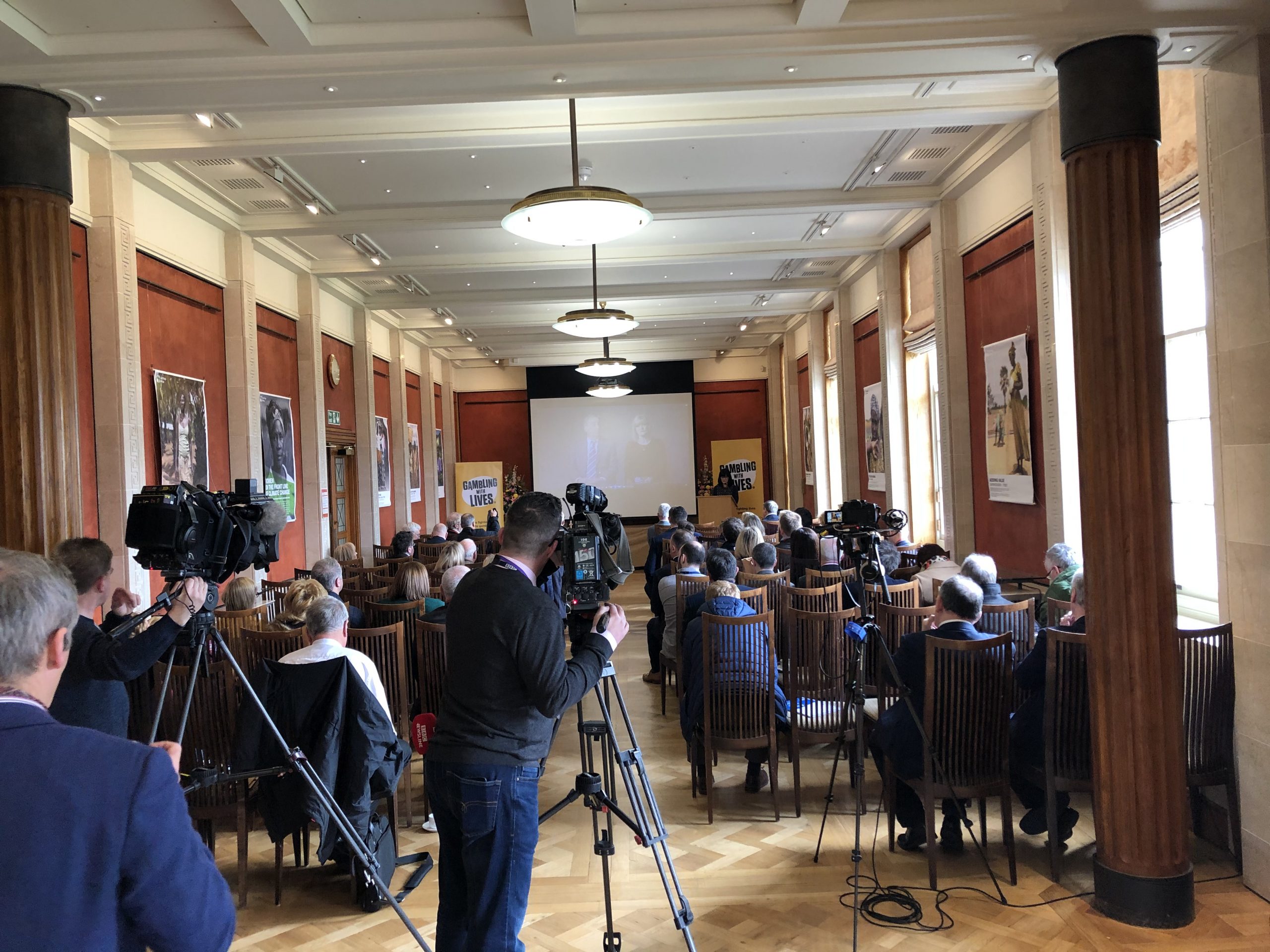 ---
The Chambré team is privileged to support Gambling with Lives raise public and political awareness of the dangerous effects of gambling on mental health. The charity Gambling with Lives was set up by the families and friends of young people who have taken their own lives because they had been addicted by toxic forms of industrialised gambling. The families present at a Long Gallery reception in Parliament Buildings on Tuesday (18 February) were overwhelmed at the level of media interest and cross-support for their campaign.
Gambling with Lives supports bereaved families and campaigns to warn other families about the well-documented link between suicide and gambling. Research shows that there are between 250 and 650 suicides across the UK every year linked to gambling disorder – and that gambling addicts are fifteen times more likely to take their own lives than the general population. And nowadays, addictive casino-style games and relentless high speed sports gambling are available 24/7 via your mobile phone. Gambling with Lives wants MLAs to take the opportunity to radically toughen the law to protect the public, especially the young and vulnerable, from aggressive marketing and harmful gambling products.
Liz Ritchie's son Jack was one of them. He died in 2017, aged 24, having been addicted while playing with his friends on Fixed Odds Betting Terminals while at school. She said: "When young people are enticed into gambling they do not know that they are being given the equivalent of hard drugs – the electronic machines and online games are highly addictive. They and their families think they are safe because there is no warning. A six year old knows that smoking kills, who knows that gambling kills? Everyone thinks it's about the money that kills you – it's not – gambling affects your mental health. Even the UK government has written that gambling causes anxiety and depression".
Liz's husband Charles joined her at Stormont on Tuesday to lobby for change. He said: "We want to see the equivalent of a Gambling Commission for Northern Ireland with strong regulatory powers. We want to ban aggressive marketing VIP schemes, free bets and sign-up offers. We want to see safety checks on gambling products before they are put onto the market."
Gambling with Lives also wants to see health bodies pro-actively treating gambling addiction, introducing screening for gambling problems by GPs, training up treatment specialists and setting up a gambling clinic for Northern Ireland. On public health and the role of educators, the charity wants to see the introduction of a strong public health warning campaign as well as warnings for our school children about the risk to mental health and the risk to life from gambling. A study by the Gambling Commission found that an estimated 48% of those aged 11-16 had spent money on gambling at some point, and 11% had gambled in the past week, more than had smoked a cigarette or taken illegal drugs."
The return of Stormont means that politicians finally have the opportunity to reform the obsolete Betting, Gaming, Lotteries and Amusements (NI) Order of 1985 which has been completely superseded by the explosion of online gambling. And Gambling with Lives argues that there is no point in legislators in Northern Ireland simply cutting and pasting inadequate laws from England and Wales which are due for review in the coming year to bring legislation into the digital age.
A Department for Communities consultation on gambling regulation reform has been underway, and closes on Friday (21 February).