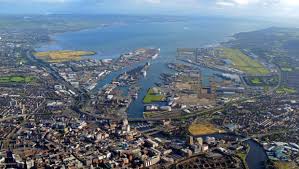 In the short term, GB-based businesses can expect more regulation, costs and political wrangling over their trade with Northern Ireland.
The European Commission's vaccine misstep has opened up the prospect that small accommodations will be made.
In the longer term, supply chains in Northern Ireland are likely to evolve and more EU brands may appear on supermarket shelves.
Although unloved, the Northern Ireland Protocol is likely to remain in place for the foreseeable future.
The Northern Ireland Protocol governs trade flows between Great Britain, which has left the EU's single market, and Northern Ireland, which has not. It introduced enhanced checks to preserve the integrity of the single market and to prevent the need for border controls between Northern Ireland and Ireland.
The Protocol was one of the most complex and contentious parts of the Brexit negotiations and has proved no less controversial in the first weeks of its operation. Pictures of empty supermarket shelves, threats of violence against customs workers and an international diplomatic incident have defined some of the emerging practical and ideological challenges facing the new trading arrangements.
Hanover Communications and Chambré Public Affairs spoke to a range of food and drink manufacturers and supply chain professionals across GB and NI to gauge the impact of the Protocol on the food and drink industry, how it could evolve and how supply chains between GB, the island of Ireland and the European Union might be recast.
Impact on food and drink supply chains
Throughout January, the media reported that certain product lines were no longer available on supermarket shelves in Northern Ireland.
The longer-term challenges of moving products from GB to NI are becoming starkly apparent. Some businesses took the precaution of building up supply in Northern Ireland before Brexit took full effect on January 1, 2021; however, a number of food and drink professionals we spoke to conceded that many GB-based manufacturers are either unprepared or unwilling to navigate the new red tape involved in moving products from GB to NI. Indeed, several NI businesses say they are paying up to €400 extra to import/export goods via Irish ports to avoid disruption at Dover or Calais and again at Larne.
Suppliers are reportedly urging supermarkets to become importers of their products, thereby shifting the burden of regulation onto the retailers. In turn, supermarkets are demanding more information from their suppliers.
GB-based exporters also report having to renegotiate contracts with hauliers to take account of the new customs requirements. In some instances, hauliers have stopped facilitating 'groupage' (the transportation of a mix of products from different suppliers) owing to the additional paperwork and inspections. This means that certain GB businesses are having to pay for dedicated, less frequent, and more expensive haulage.
According to Seamus Leheny, NI Policy Manager for Logistics UK, hauliers are also incurring extra costs owing to a growing trade imbalance. Goods flow from NI to Britain just as they have always done — and there are substantial NI agri-food and food manufacturing operations supplying GB — but around one-third of lorries on the return journey are empty, he said.
Political fallout and implications
Anxiety among Unionist communities already concerned about increasing separation from the rest of the UK has been exacerbated by the shortage of certain products on supermarket shelves. A group of Conservative backbench Members of Parliament has sought to assuage these fears with a so-called 'Union Service Obligation', whereby businesses over a certain size would be obliged to supply to all parts of the UK. While this might be difficult to police, it would underscore the potential reputational risk to businesses that refuse to serve NI.
Tensions reached new heights on 29 January when the EU abruptly threatened to triggered Article 16 of the Protocol (thereby temporarily suspending the agreement) in an attempt to prevent the export of Covid-19 vaccines to NI. The move was roundly condemned in Belfast, London and Dublin and was quickly reversed. Nevertheless, it led to calls for renegotiation of the terms of the Protocol or for scrapping it altogether.
The political repercussions have been felt in Stormont, Westminster and Brussels. Within Northern Ireland, the Democratic Unionist Party (DUP) has escalated its opposition to the Protocol with a five-point plan aimed at frustrating the operation of the new arrangements. As the largest unionist party, the DUP is under intense pressure from its members and the wider unionist community to secure concessions on the protocol. If it is left empty-handed, the threat of political instability in the region looks likely to increase. A recent Lucid Talk poll shows the party losing ground to a smaller, more hard-line unionist party, the Traditional Unionist Voice (TUV).
Over the weekend, all unionist parties in NI joined in a legal bid to challenge the protocol, claiming it breaches the Act of Union 1800, the Northern Ireland Act and the Belfast (Good Friday) Agreement.
The UK Government's response to protocol issues has been relatively restrained. Michael Gove, who has up until recently been the main UK Brexit spokesperson, has asked for carve-outs, solutions and longer-lived exemptions or 'grace periods' that would reduce friction on retail, business-to-consumer and citizen-to-citizen trade flows. Gove has now ceded his role in overseeing the Protocol and future EU relationship to David Frost, considered by many to be a blunter negotiator. Lord Frost may be less disposed to making any changes to the post-Brexit trade deal he negotiated with Brussels last year and only time will tell what impact his appointment will make on protocol flexibility.
Emerging flexibility
While the EU will want to protect the integrity of its single market and customs union, it may offer some limited concessions to ease political tensions in NI. European Commissioner Maroš Šefčovič, along with Michael Gove, met with NI civic and business leaders on 18 February to discuss the protocol issues. Speaking to Chambré and Hanover following that meeting, Aodhán Connolly, Director of the Northern Ireland Retail Consortium described it as: "one of the most positive engagements I've had with the EU in quite a while".
Mr Connolly said the EU seems to be more open to facilitations. But those facilitations would be predicated on the UK delivering on its side of the bargain. "If the UK is willing to provide evidence that it meets the standards and requirement of the EU, then flexibilities and agreements can happen and that's what we need for NI business," he said. He called on the EU and the UK to make use of NI business's technical expertise to help design "a system that actually works".
The Irish Government has not broken ranks with the EU, but the mood music from Dublin suggests that it would be happy to see certain accommodations made.
The Protocol contains several grace periods for trusted traders, sparing them from official certification requirements for food, plant and animal products. Some have already come to an end – supermarkets bringing chilled or processed meat products from GB to NI face new EU health checks from this week – but most are due to expire in April. The UK Government is now pushing for an extension until 2023, meaning that businesses face more uncertainty as to when changes will come into force.
"Give us the extension of the grace periods, then the EU and the UK can work with NI stakeholders and we can develop schemes to ease the movement of goods from GB to NI," said Seamus Leheny.
There is a certain wariness among politicians about prolonging grace periods, described by some in the DUP as "kicking the can down the road". But Aodhán Connelly feels the whole point of a grace period is it is there for as long as it takes until a system is put in place that removes friction.
With politicians already at odds as to the extent of the trade disruption so far, the question arises, who decides when friction has been sufficiently removed to allow grace periods to end? Mr Connelly wants to see an NI business consultative body established to liaise with the EU on these issues, saying "there is a need for more agency for NI business than possibly either the Government or politicians can give".
Evolution, not revolution
In the longer term, there seems to be consensus among fast-moving consumer goods (FMCG) professionals that supply chains will evolve. Trade between Ireland, the EU and Northern Ireland is unencumbered, and retailers in NI may find it easier to source from Ireland and the EU and to seize new opportunities supplying the single market.
In the medium term, Northern Ireland consumers are likely to see more EU products on offer, according to several experts we spoke to. Where GB brands are still available, it is likely there will be less variety, as many of these companies offer stripped back lines to EU markets.
Last week, European Commission Vice President Maroš Šefčovič told the Irish Parliament he wanted the border problems solved by the end of his meeting with Michael Gove on 24 February. However, a clear long-term settlement on trade that is accepted on all sides seems unlikely anytime soon. In its early days, the Protocol has shown itself to be contested and fragile. No element of the peace process in Northern Ireland was settled with the signing of a document alone, and the Protocol will likely continue to come in for scrutiny and require regular ongoing maintenance.
The Protocol will be up for review in 2024, and the UK Government will grant the Northern Ireland Assembly an up-or-down vote on whether to renew it. This vote will be based on a simple majority, meaning it cannot be vetoed by a block of unionist or nationalist MLAs based on identity concerns. Based on current political and demographic trends, it seems more likely than not that Northern Ireland's nationalist and cross-community politicians will favour keeping border checks in the Irish Sea, rather than at the border with Ireland.
While it might not be loved, the Northern Ireland Protocol looks set to remain in place for the foreseeable future.
If you would like to discuss the implications of the Northern Ireland Protocol for your business, contact megan@chambrepa.com