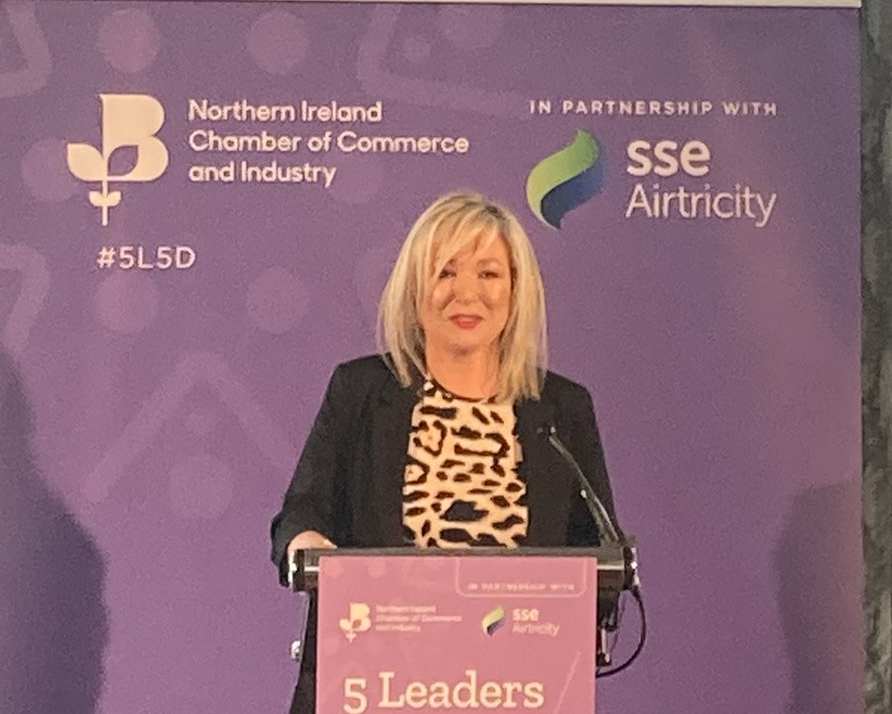 Chambré's Bridget Moylan takes a look at the Sinn Féin's manifesto for the upcoming Assembly election on 5 May.
Sinn Féin's 20 page manifesto, "Time for real change", was launched in Belfast on Monday. The manifesto highlights the importance of a returning Executive to deliver investment in services and tackle the cost of living crisis, and promises to "make politics work".
While the polls show that Sinn Féin are on course to become the largest party in the Assembly for the first time in Northern Ireland's history, Vice-President Michelle O'Neill said that Sinn Féin would provide a "progressive First Minister for all".
Cost of Living
The cost of living crisis and rise in fuel prices is a key feature of the manifesto, with Sinn Féin promising to "support workers, families and the most vulnerable". In order to do so, they commit to:
Allocating £230 to every household
Investing an additional £8 million to an Emergency Fuel Fund
An additional £9 million for Discretionary Support fund.
Health
The manifesto states that health should be the Executive's "number one spending priority", and Sinn Féin are committed to increasing the health budget by £1 billion over three years.
This increase would help fund Sinn Féin's commitments to:
Tackle waiting lists
Recruit more health care staff and provide staff with fair pay and conditions
Deliver a fully funded Mental Health Strategy
The Mental Health Foundation estimate that poor mental health is costing the region £3.4 billion a year a 34% increase in funding in the Health budget is needed to fully implement the Department of Health's 10-year Mental Health Strategy.
Sinn Féin's Assembly manifesto also notes the growth of all-island health services and the importance to "maximise the potential" of such services to prevent "wasteful duplication".
Economy
On the economy, Sinn Féin pledge to "build a more inclusive and sustainable economy for all". They are committed to delivering a new Economic Strategy that maximises dual access to the EU and British markets, and highlight the benefits that the protocol can provide.
Housing
Sinn Féin state that their housing plan is "the biggest shakeup of the housing system for over 50 years", as the party commits to delivering over 100,000 homes over the next 15 years.
The manifesto highlights the work of Minister for Communities Deirdre Hargey in introducing a freeze on Housing Executive rents, and propose banning unfair letting and "revitalise" the Housing Executive so it can start building houses again.
Education
The manifesto pledge to "respond to the demand for both Irish Medium and Integrated Education".
An Alliance sponsored Integrated Education Bill was recently passed by the (previous) Assembly and is awaiting Royal Assent. Although Sinn Féin supported the Bill, during a debate, Upper Bann MLA and former Minister for Education, John O'Dowd, voiced his concerns that the identity in integrated schools is "not neutral: in many of them, it is British".
The party is also committed to ending the practice of academic selection and improving access to further education to those who face barriers such as those with disabilities, from low income families, or those with childcare duties.
Climate Change
On climate change, the party commits to:
A Just Transition Commission
A Just Transition Fund for Agriculture
A Climate Change Commission
They also committed, on an all-island basis, to meeting emissions targets and banning petroleum licensing, drilling, and extraction.
Equality and Rights
Sinn Féin is committed to introducing a Bill of Rights, a Refugee Integration Strategy and strengthening hate crime legislation.
It prioritises a an Irish Language Act, or an Acht Gaeilge, which has long been a controversial topic. Most recently, the New Decade New Approach promised amendments to Northern Ireland Act 1998, which would include Irish language policies. These legislative changes are yet to be introduced.
On worker's rights, the party is committed to:
Ending Zero-Hour contracts
Delivering affordable childcare
Introducing a Real-Living wage.
Under Sinn Féin Finance Minister Conor Murphy, the Executive became a living wage employer and there is also now a requirement for any company receiving a government contract to pay the Living Wage.
Constitutional
While Irish unity is a feature of the manifesto, there appears to be a shift in the party's tone regarding the constitutional question. Indeed, at the manifesto launch, Sinn Féin President, Mary-Lou McDonald stated that the party want to strike a balance between aiming for Irish unity and dealing with people's concerns.
The manifesto notes the importance of planning for unity in order to avoid a '"repeat of the Brexit debacle", and insist that inclusive planning and negotiation is necessary "to achieve a stronger, better and fairer country".