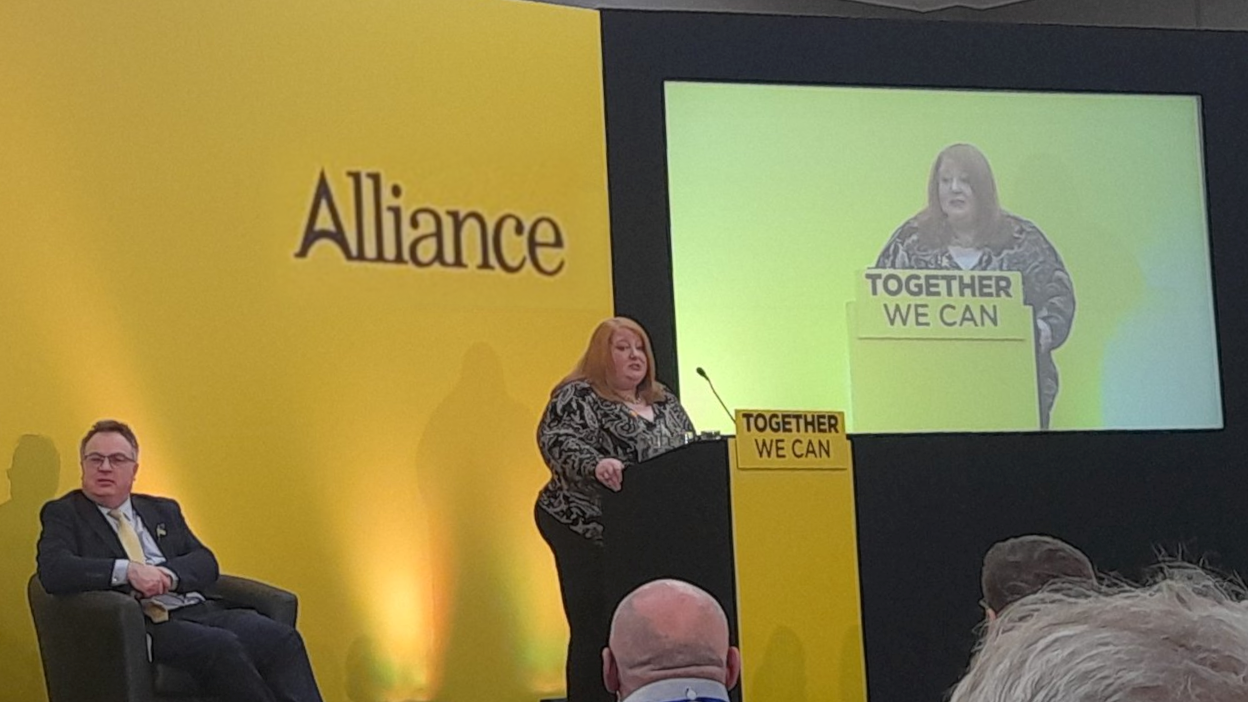 Chambré Senior Account Executive James Mayne takes a look at the Alliance Party's manifesto for the upcoming Assembly election.
With mere hours to go the Assembly Election is very much upon us. The Alliance Party revels their extensive 94 page manifesto, 'Together we Can' is the largest manifesto we've seen to date. The party goes into great detail regarding its plan for the next mandate and pays particular attention to institutional reform at Stormont.
The party is running 24 candidates across all 18 constituencies with a 50/50 gender balance. At the last Assembly election in 2017, the party returned 8 candidates, dropping to 7 after Trevor Lunn left the party to become an Independent. The party will be targeting key constituencies such as South Down, South Antrim and Lagan Valley and Upper Bann.
Institutional reform
Alliance commits to transforming the political institutions at Stormont. They pledge to rename the Office of First and deputy First Minister to 'Joint First Ministers' to tackle the 'polarising' contest over which party lays claim to the 'Higher office'. They also commit to changing the current designation system from cross-community voting to a weighted majority system that would be free from Unionist, Nationalist and Other designations. This would benefit a party that is seeking to become more influential in Stormont and allow it to potentially take the office of First or deputy First Minister, an office that is currently out of their reach. [Note Pg. 92 Alliance Manifesto]
Brexit & The Protocol
Alliance are a strong pro-European party who were firmly opposed to Brexit. The party commits to finding a way to make the Protocol work, labelling themselves as Protocol pragmatists, a change of direction since September 2020 when they called for rigorous implementation of the Protocol. The party commits to the preservation of NI's unfettered access for goods to both GB and the EU. They however wish to simplify the rules of origin requirements and access for goods or components from NI to EU free trade agreements.
Economy
The part pledges to upgrade the current 10X Economic Vision to a formal economic strategy which will be more wide reaching and increase its impact. The party proposes that this new economic strategy should be supported by the a range of associated strategies including:
Skills Strategy
Manufacturing Strategy
Hospitality Strategy
Energy Strategy
Social Enterprise Strategy
Agri-food Strategy
The party also commits to challenge UK regional imbalances and  the absence of a 'genuine' UK -wide economic strategy. The party in its Green New Deal document prioritises developing green led jobs with government subsidies to make them more competitive.
Housing
Alliance commits to ensuring that Retrofitting becomes a fundamental component of decarbonising the residential sector by building healthy homes. By 2030 the party pledges to ensure all social housing is retrofitted, introduce universal access to grants for insulating, expanding grant programs and make retrofitting public and civic buildings a mandatory requirement. The party also commits to reforming current building regulations so that all new builds are Nearly Zero-energy buildings and that they last for 100 years minimum.
Infrastructure  
Alliance state that a radical improvement is needed for infrastructure in NI. The party backs the creation of an independent Infrastructure Commission with a thirty-year vision to prioritise sustainable green growth projects. The party has reneged on its position to introduce water charges to pay for the outdated water system. The party pledges to mutualise NI water so that it can invest in water infrastructure with the fiscal council recommending a sustainable way forward which will not pass the cost to consumers.